Description
THE BEST PET CARRIER IN THE WORLD
Do you want to be able to take your best friend everywhere you go ?
This dog backpack is perfect for transporting (and showing off) your gorgeous dog on a daily basis, without the stress of a cage.

Pet Travel Backpack : Pet Carrier Backpack specially designed backpack that gives you the ability to carry your dog on adventures without leaving them behind at home.
Let's be honest, our puppies don't deserve to feel anxious or sad when they see their parents leaving out of the door without.

Pet Travel Backpack : Pet Carrier Backpack with The zipper design makes it super easy to get your dog in and out. Made of high-quality oxford cloth and breathable mesh.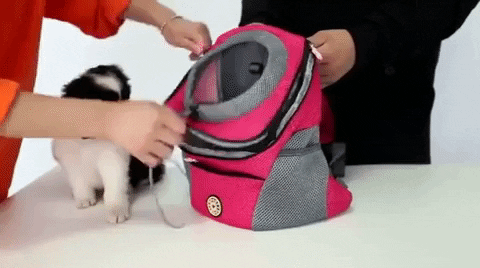 BENEFITS :
🐶

SAFE & SOOTHING

 :

 A zippered pet pocket lets you reach into the bag and directly calm your dog or cat without opening the bag. Plus, our bag features an innovative design that gives pets ample room!
🐶

DURABLE

 :

 Our pet carrier travel backpack is made with heavy duty materials. A strong EVA base gives pets stable support, and zippers keep pets from escaping. Ideal for work, traveling, and camping!

🐶

COMFORTABLE FOR OWNERS

 :

 A three-dimensional ventilation back pad keeps owners' backs from sweating. Ergonomic chest and waist straps help distribute weight, preventing back and shoulder strain!

🐶

SPACIOUS & CONVENIENT

 :

 This travel bag fits cats and small dog breeds. Built with straps and pockets for storing pet supplies, treats, leashes, toys, as well as your water bottle, wallet, and phone!
Lets face it! Pets need fresh air and often times they don't get the air they need, which can cause behavior issues, anxiety and stress. Eliminate all of these worries with our Pet Travel Backpack : Pet Carrier Backpack. We guarantee your pet will love this travel backpack !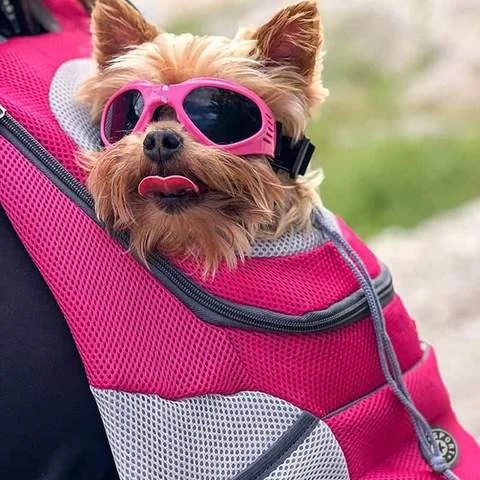 Keep your dogs or cats safe and comfortable on every adventure with the exclusive Dog Carrier Travel Backpack!
Sizes :
Small: 30x34x16 cm
Large: 41x55x25 cm

Maximum weight  :
Small: Max 11lb (5kg)
Large: Max 26lb (12kg)

Backpack details  :
Feature: Breathable
Material: Nylon
Type: Small Dog
Color: Black, Pink, Green, Blue, Orange
Size: S, M