Description
Having a product like the Rechargeable Pet Nail Grinder For Dogs & Cat is incredibly useful. This nail grinder operates at low vibration frequency making it a painless process for your adorable pet.
Rechargeable Pet Nail Grinder For Dogs & Cat is a revolutionary nail trimmer that built with your pet in mind. It's the easiest and fastest way to keep your pets nails trimmed and smooth with no mess!
This device is not just limited to dogs and cats. The nail grinder can be used for a variety of animals such as hamsters, lizards, and even birds!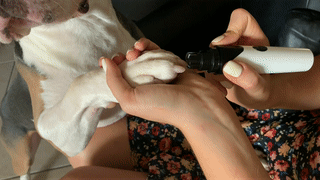 FEATURES :
Minimal Noise/Vibrations​:

 

This Pet Nail Grinder is equipped with a powerful, but silent motor. It gently removes thin layers of nail with little to no sound at all, so that your adorable pet will feel calm and safe. This makes your nail trimming work so much easier.
Quick & Painless​:

 

If your pets are terrified of nail trimming, then we've got you covered. The Painless Pet Nail Grinder trims their nails easy and painlessly. No more worries about over cutting, nasty pains, or bleeding!
Extra Long Battery Life:​

 

Designed with USB capabilities, it is convenient to charge, with batteries being a thing of the past! You can charge whenever and wherever possible. Once fully charged, the grinder will be well-performed for about 3 hours of continuous use.
Detachable Grinding Wheel​:

 

The dirty stuff on the grinding stone can be removed for quick and easy cleaning. You can use an eraser, or a soft towel to clean it, softly clearing out the openings. Then use a tissue to clean again, which helps it perform more effectively.
KEEP YOUR STANDARDS HIGH :
This device is easy to use and quick to charge. The Rechargeable Pet Nail Grinder For Dogs & Cat can be charged in a matter of minutes and the battery life lasts up to 3 hours. There are 3 different size openings for trimming different sized nails. Whether it be a big dog or a small cat, this nail grinder gets the job done!
CONVENIENT AND PORTABLE :
Conveniently designed to be handheld, the Rechargeable Pet Nail Grinder For Dogs & Cat can be taken wherever you go. Whether you're going out of town for the holidays or just staying at home, you can take this virtually anywhere!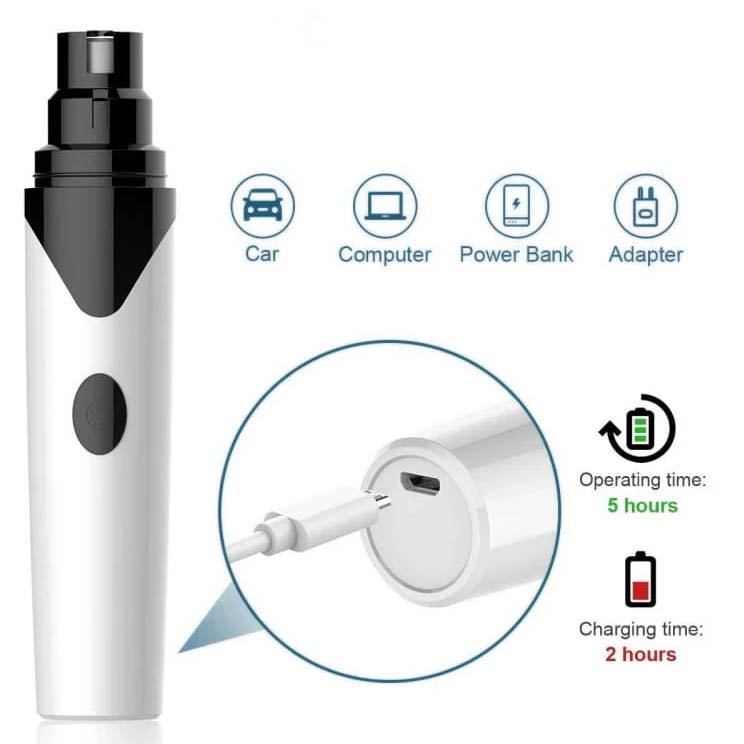 One Size Trims All
No need to worry if the Soft Pet Paws™ grinder is right for your pet's size. It's suitable for any pet size and nail thickness.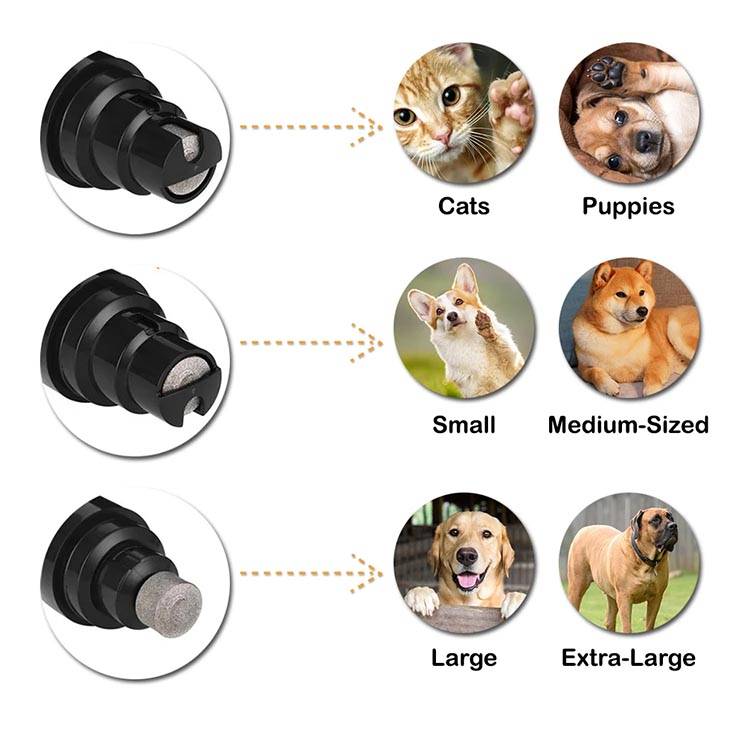 How To use : 
Step 1: Based on the size and nail shape of your pet, choose the proper nail trimmer opening. The bigger the nail, the bigger the opening you can use. Refer to our sizing chart below.
Step 2: Let your pet sniff the trimmer once while it's off, then again while it's on. Giving them a treat while doing this helps them associate positive emotions while around the trimmer.
Step 3: Once they're curiosity has subsided, gently pick your pet's paws up and begin trimming. The PowerPaw™ is equipped with low vibration and a quiet yet powerful motor that makes nail care a hassle-free and comfortable experience for you and your beloved pet.
Step 4: Once all the trimming is complete, gently clean the trimmer's wheel with a cloth to remove any excess nail powder.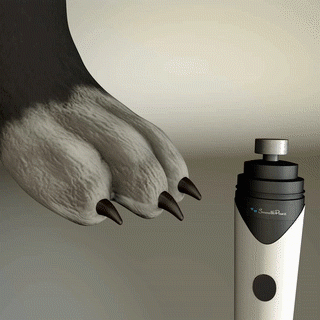 Specification :
1. Charging time : 2 hours
2. Running time : 3 hours
3. Input : AC100V-240V 50HZ/60HZ
4 . Output : 5V/350MA
5.  Charging mode : USB charging
6 . Battery : Built-in battery
Package Contents :
Packing box*1

USB data cable*1

Pet  Nail Grinder*1

Instruction manual*1